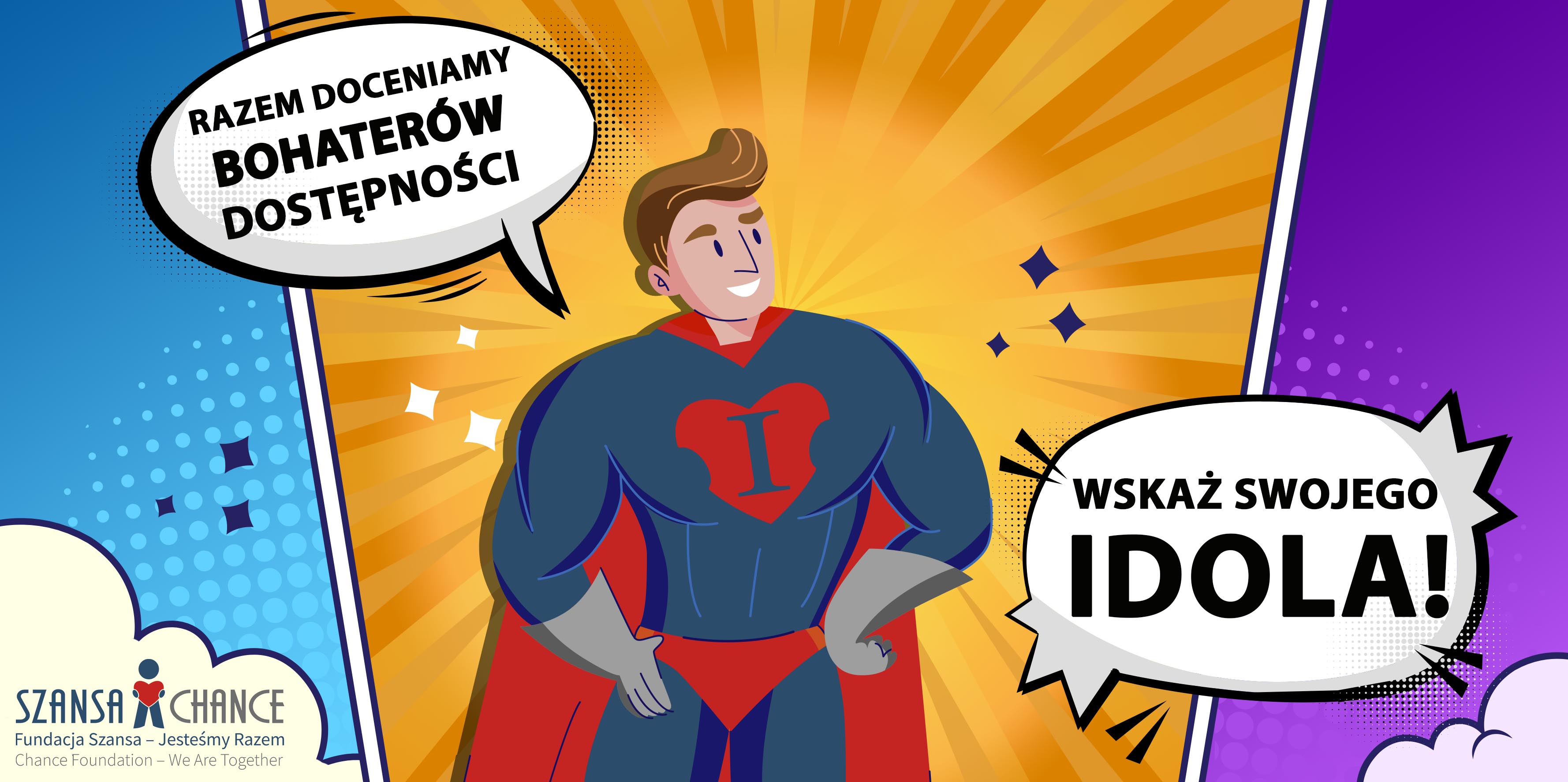 World IDOL
We would like to invite you to nominate candidates to the world idol of the blind and visually impaired.
World Idol is a part of the IDOL COMPETITION organized within REHA FOR THE BLIND IN POLAND conference by the Chance for the Blind Foundation.
It is possible to nominate candidates in the following categories:
World IDOL - an outstanding blind or partially sighted person who is astonishing in his/her diligence, energy, ingenuity, achievements, or a sighted person who gives to the Community his/her outstanding abilities and time, who contributes to the emancipation of people with visual disabilities and who has a great influence on the situation of the Community. The winner adopts the title IDOL OF THE BLIND AND VISUALLY IMPAIRED (in short) THE WORLD IDOL.
COMPANY OF THE YEAR
PRODUCT OF THE YEAR.
Submitting companies and products to the competition costs 50 euros + 23% of VAT.
The application form to nominate a candidate to the competition
IDOL Competition Regulations (PDF)
Please fill in the following form to nominate a candidate to the competition.
Voting
World IDOL
Nikoloz Cercvadze
Gruzja Tbilisi
Nikoloz Tsertsvadze, urodził się jako zdrowe dziecko, ale Jego życie zmieniło się, gdy w wieku piętnastu lat stan zdrowia chłopaka gwałtownie się pogorszył. Zdiagnozowano u niego Miningitis. On spędził w szpitalu w sumie dwa lata. W tym czasie stracił wzrok, ale właśnie wtedy zainteresował się rękodziełem. Początkowo układał puzzle, potem do nich dołączyła się glina. Takie hobby pozwalało mu się odprężyć, a także wyrazić swoje odczucia na temat świata. Stopniowo hobby przerodziło się w coś większego. Po powrocie do zdrowia, wstąpił do szkoły dla osób niewidomych, nawiązał nowe przyjaźnie i jest teraz aktywnym i wesołym młodym człowiekiem. Do wniosku dołączam kolaż prac ręcznych Niki. Mam nadzieję, że jego historia i sukcesy twórcze będą motywacją również dla państwa.
Votes: 0
Voting will start soon
Ahmed El Jeilany
Adviser
I am Ahmed El Jeilany from Mauritania, born in Kuwait in 1981. I completed primary, intermediate and secondary education in Kuwait and obtained a high school certificate in the scientific section. After that, I was admitted to the Arab Open University, Department of Business Administration, with a Bachelor's degree in 2007, and in 2007 I became blind in Kuwait. I was transferred to the University of Nouakchott to study another field, which is law, and I obtained a general university degree in law in 2010, and then a license in public law, the Department of Local Administration in 2012 from the University of Nouakchott, and then I went to study a master's at the University of Nouakchott and obtained a master's degree In 2016 and a research entitled Legal Protection for Persons with Disabil
Votes: 0
Voting will start soon
Ahmed Hossam Ahmed Mohamed
October
I established the Blind Egypt Association to compliment the visually impaired and teach them in different fields so that they can be like the sighted. It was founded in late 2019 and we cooperated with the Ministry of Youth and Sports in particular, the Mashwari project and the American University in Bandina
Votes: 0
Voting will start soon
Andrey Tikhonov
Ambassador of the foundation "Potrafię Pomóc", Poland
35, is a PhD student at the University of Wroclaw, disability activist, author of scientific articles, teacher of foreign languages, translator, professional musician, half-marathoner and triathlete. Andrey was born in Russia and lost his sight at the age of 2. Holding a master degree in teaching languages and linguistics, he spent a year at Michigan State University, East Lancing, MI, through the Fulbright FLTA Program. Later, he was a prominent leader in nonprofit sector back in his home town. Through international projects Andrey visited more than 20 countries. In 2013, he had an internship in the Chicago LightHouse, Chicago, IL, through the Professional Fellows Program. In 2015, in Washington D.C. at the award ceremony he was acknowledged as one of the best Program alumni.
Votes: 0
Voting will start soon
Ben Lou Poggo
Ministry of Education South Sudan
Ben has over 41 years of advocacy for human rights and service of persons with disabilities and could be reffered to as the faof disability movement in South Sudan. he was the first braillle teacher in the country and the founder of various organizations of persons with disabilities including South Sudan Association of the Visually Impaired. currently the director of special needs education where he helped in formulation of various policies on inclusive education. his efforts did not only confine to visually impaired and blind persons but persons with all types of disabilities.
Votes: 0
Voting will start soon
Dr.Sadiq Hussein Qnaij
Braill Organization for rehabilitation of the blind and partially sighted
I am the blind Dr. Sadiq Hussein Qnaij from Iraq, professor of Arabic language, retired teacher at Al-Mustansiriya University, College of Education, Department of Arabic Language. President of the Braille Organization for the Rehabilitation of the Blind and Partially Sighted and the First Deputy for the Affairs of the Arab Union of the Blind. Active member in advocating the issues of the blind, educating and rehabilitating them in order to integrate them into society. You can visit his Facebook page and the organization's page to see his activities in the field of the blind
Votes: 0
Voting will start soon
Esma Gumberidze
Young European Ambassador, co-founder of the Global Network of Former UN Youth Delegates
Esma is mentoring working on the awareness raising not only on disability issues, as it is often expected of a person with disabilities, but is also involved in the youth work, had spoken at the UN General Assembly on behalf of whole Georgian youth, as official member of the Georgian Permanent Representation to the UN. Finally she was first non EU citizen student with disabilities participating in International Credit Mobility program under Erasmus Plus.http://un.mfa.gov.ge/default.aspx?sec_id=630&lang=2&NewsID=146727
Votes: 0
Voting will start soon
Fredric K. Schroeder
San Diego State University Research Foundation
a psychologist, activists, and, most importantly, president of the World Blind Union from 2016 to 2021. Dr. Schroeder Lost his vision at the age of 16. Within his career, he held various positions. He was a teacher, O&M instructor, activist, and State Official. He is a great, opened person, greatly devoted to his work.
Votes: 0
Voting will start soon
Hassan Agufana Jackson
Kenya Union of the Blind (KUB), Kenya
He has been able to work with various government Ministries, Departments and Agencies in Kenya. He has personally dedicated his time and effort to ensure that the following: Bridging the Digital Divide for Adults, Youth and Children with Visual Impairments in Kenya. Over 1000 visually impaired persons have been connected since 2010. The project has been supported by Safaricom PLC. - 8 schools currently hosting digital learning centers in Kenya, - 200 teachers have been equipped with skills in digital literacy Linking Visually Impaired persons to livelihoods and credit opportunities. - He has aided KUB in launching the Disability Empowerment Saving & Credit Society (DESCOS). The organization is crucial in assisting disabled persons in small business.
Votes: 0
Voting will start soon
Ishaq Hersi
KFPL.saudi arabia
He is a member in a great family which has two more blind sons with their 5 siblings . He lost sight in 2010 at the age 22 .since then he did a great achievents includes managing the largest Arab platform that includes the most important Arabic heritage books and forieners books translated into Arabic through accessibility technologies. This electronic platform is called (The Best Friend Library). It is named in Arabic to reach arabic readers around the world.The platform is dedicated to the blind people only. Moreover, the blind can browse its content ( more than 3500 book) via screen readers and electronic reading devices which can be accessed remotely from anywhere and in the Arabic language. www.acarbooks.com
Votes: 0
Voting will start soon
Jan Bloem
Vispero
He is working with the visually impaired and computers since 1993. As an end user , he travels around the globe for Vispero to visit exhibitions and dealers to spread the gospel of JAWS for Windows! From 2000 till 2006 he spent his time in volunteering as a computer trainer for the blind in Nepal, Tibet and Nigeria. He started the computer training with JAWS for Windows at the Technical Skills and Development Center for the Blind and Disabled (TSDCBD) in Kathmandu Nepal and in Lhasa, the capital of Tibet with the NGO Braille without Boarders at the former Project for the Blind. Later on He joined VSO, Voluntary Services Overseas) to work for 3 years at the Kebbi State School for the Handicapped in Birnin Kebbi , the capital of Kebbi state in the north west of Nigeria.
Votes: 0
Voting will start soon
Khomraj Sharma
Nepal Association of the Blind (NAB)
Nepal Association of the Blind NAB would like to nominate Mr. Khomraj Sharma for the world Idol. Mr. Khom has been continuously working for the empowerment of visually impaired people in Nepal for last 21 years. He initiated the first digital/audio library in 2007 which has impacted the lives of many visually impaired people in Nepal. He has been promoting the use of assistive technology within the visually impaired community and has trained more than 500 individuals through his personal attempt. Further more, he is leading a very important project to develop Nepali TTS and OCR on behalf of NAB. I therefore, urge to the committee that he is an excellent deserving candidate for the award.
Votes: 0
Voting will start soon
Mais Ahmed
Emirates Association of the Visually Impaired
My name is Mais Ahmed, I would like to participate in this competition. I have been working in Emirates Association of the Visually Impaired past 5 years as Braille teacher. Also pursuing, PHD in college of communication at Sharjah University, UAE.
Votes: 0
Voting will start soon
Mikhail Antonenko
Belarusian Association of Visually Impaired People, Centre of Successful Man
Very active, visually impaired man, working in the area of rehabilitation of the blind and partially sighted in Belarus. He has been working on many projects to improve the accessibility of various aspects of life for those with low vision in Belarus. MR. Antonenko graduated from Francysk Skaryna Gomel State University. Some examples of his projects include: "Path to success", "Learn how to manage finances yourself", "Daily independent barrier-free access to information for the blind in Belarus", and many others.
Votes: 0
Voting will start soon
Nati Bialistok-Cohen
Center for the Blind in Israel
Since 2016 Nati serves as the CEO of the Center of the Blind – an umbrella non-profit association of people with visual impairment. Among his roles are: representing visually impaired persons and advance their social and economic status in the community and cares for people who are visually impaired vis-à-vis the parliament, and governmental organization. He is leading for social changes to enhance the rights of people with visual impairment as well as increasing public awareness to the abilities of blind people. Prior to this position Nati was among the senior consultant to the CEO of the Ministry of Communication where he had the capacity of leading an advisory committee to deal with complexed process in coordination with governmental departments, private organizations and the media.
Votes: 0
Voting will start soon
Pawan Ghimire
Cricket Association of the Blind, Nepal
Mr. Pawan Ghimire is a blinded soldier, who despite of his blindness has been working actively in promoting cricket for the blind in Nepal. In his leadership, Nepalese blind cricket has become the first team in the whole world to play in the world cup. Similarly, Mr. Ghimire is the founder of cricket for the blind women in the world. The cricket he started in 2006 from Nepal has now reached to over five countries of the world like India, Pakistan, England, and West-Indies. He is also the one to organize the world's first blind women's international competitions between Nepal and England. His endeavor to involve blind women in cricket has become a source of motivation to many girls who are struggling hard to find their ways.
Votes: 0
Voting will start soon
Paweł Wdówik
Ministry of Famili and Social Policy, Poland
Polish social activist, Secretary of State, Government Plenipotentiary for persons with disabilities. He graduated from Warsaw University, where he later on worked in the office for students with disabilities. From 2001 to 2010, Wdówik worked in a Catholic radio called "Katolickie Radio Józef", where he had his own broadcast.
Votes: 0
Voting will start soon
Razzaq Muhsen Wadi
Baghdad University
Mr. Razzaq is weak in sight and has a long history of achievement in rehabilitating the blind, serving them and developing their abilities in various fields. Among his achievements is the establishment of the Judo Federation for the Blind in Iraq
Votes: 0
Voting will start soon
Sally Farouk Nashed Abadeer
El Damg foundation for persons with disability and development
Sally mainly works as a cardiologist but after giving birth to a blind baby girl, she left her work. She got her master degree in special education from West Virginia university, with focus on visual impairments. Then Sally thought of Egyptian children with VI, how can they live, learn…etc. She came back from USA to Egypt to start the educational inclusion project in Upper Egypt which was a unique attitude at this time 2012. More than 10000 persons, among them: children with disabilities and their families, teachers for VI, schools' staff teams, students without disabilities, get benefit from Sally's services: trainings, assessments, workshops, distributing visual aids.
Votes: 0
Voting will start soon
Shereen Aqa Siddiqi
Kabul, Afghanistan
Mr. Siddiqi is the cofounder of Afghanistan Association of the Blind. He served twice as secretary general, once as vice president and twice as president of the association. He has extended its structure to one sub office, four regional and twelve provincial offices. He is a true legend in social, economic, community and educational development of visually impaired in my country. Social integration, inclusive education, de-stigmatization, advocacy, mobility trainings and self-sufficiency could be mentioned are the fields where he worked with less facilities and international communities' support. Moreover, he implemented hundreds of project for the betterment of blind and partially sighted. He is the only reason of inclusive education in Afghanistan. He also built a school for blinds.
Votes: 0
Voting will start soon
Sherif Youssef Abdelaty Youssef
Nasr city in cairo
SUMMARY OF THE JOB DESCRIPTION The Tour Guide is a blind or partially sighted person (legally blind) and works in total darkness. The Tour Guide welcomes the visitors and guides them through the «Dialogue in the Dark» exhibition. The Tour Guide handles all of their needs while in the exhibition, assuring that visitors are comfortable, safe and secure, while providing them with an imaginative, educational and entertaining experience. Verbal communication and interaction are an essential part of the visit. The commitment of the Tour Guide and his/ her willingness to communicate and build empathy with visitors, focuses more on the ability to compensate the lack of sight than on the disability itself, by motivating the visitors to explore more in order to discover their own limits
Votes: 0
Voting will start soon
Stanislav Tsibulski
Camillian's Center for People with Disability
Stanislav Tsibulski is one of those disabled people who doesn't stop fighting to help those who need it. He grew up in Georgia and immersed himself in Georgian culture. He taught Polish language himself and at 19 traveled to Poland and developed competence in Polish language. While working in Camillians in Georgia, he began conducting educational training sessions for disabled people with Polish coaches. Also, he worked as a translator. On his own initiative, he started support groups for parents of disabled people. He conducted training sessions with them and shared his experience with them that helped them understand their children more. Stanislav has a Master's degree in psychology. now he is a freelancer psychologist who tries to share his story with everyone who needs to hear it.
Votes: 0
Voting will start soon
Tudor Paul Scripor
Scripor Alphabet. The Tactile Alphabet of Colors
In 2012, during a painting workshop, Tudor P. Scripor had a visually impaired student as a student participant and was unable to communicate with him chromatically. Inspired by this situation, after 7 years of intense studies, research, and many tests, Tudor P. Scripor developed a tactile color code for the blind and visually impaired. In 2014, the Scripor alphabet was first tested with psychopedagogists, special education teachers, early intervention teachers, blind and visually impaired students. Upon completing the tests and based on the feedback received from the specialists and visually impaired community, Tudor Paul Scripor finalized a version of the chromatic tactile standardization, which is now known as The Tactile Color Alphabet and has been patented and launched, in April 2019.
Votes: 0
Voting will start soon
Vojin Perić
Theatre of Blind and Visually Impaired People "Novi život" (New Life)
• At just 21 years of age, Vojin, then future director of the Theatre of the Blind and Visually Impaired People "New Life" (the oldest theatre in the world), was engaged there as an actor • Not being able to undertake a professional career as an actor due to the blindness, he found the way to grew into a professional one through his diligence, passion, devotion and performance in more than 55 different play titles. Besides being an actor, just like Shakespeare, he is a playwright and writes poetry • He gave life to the "BIT" (Blind in Theatre), the international festival of the blind, the only one of its kind. • He was awarded the Order of Danica Hrvatska, the medal for special contribution to culture. • For 15 years now, he has been the President of the CBU
Votes: 0
Voting will start soon
Zaki Ali
Disabled Children Care Center, The Faculty Of Post Graduate Childhood Studies, Ain Shams University
blind activist from Egypt. He works at the rehabilitation center for blind and visually impaired children in Cairo, Egypt. He is also a doctoral student at the Ain Shams University. He travels a lot and takes part in various event, concerning the community of the blind and visually impaired.
Votes: 0
Voting will start soon
COMPANY OF THE YEAR
Altix
World
Altix has operated in the market since 1989 and was established at the initiative of blind IT specialists. We are the largest company in Poland dealing with the distribution of electronic equipment for visually impaired. To be more specific, we are engaged in typhlo-IT, i.e. computer science for the blind. As far as Poland is concerned, we were the ones who laid the foundations of this field in country. For many years we have been shaping trends in the market, we are the pioneers in lots of issues related to typhlo-IT. It was us who developed the first Polish speech synthesizer, we voiced the Central Library for the Blind and educational institutions. Not only do we do our best to be business leaders, but also to See More – i.e. to make the society aware of the needs of the disabled!
Votes: 0
Voting will start soon
Scripor Alphabet Association (NGO)
Cluj-Napoca, Romania
We are not just an NGO, we are an international community. In our association, we are welcoming the blind, colorblind, and visually impaired people from every discipline and culture who seek a deeper understanding of the world with the help and benefits offered by the tactile alphabet of colors. The Scripor Alphabet Association is constantly growing and consists of blind children, youth and adults, educators, special education teachers, psycho-pedagogues, doctors, researchers, visual artists, architects, IT programmers, scientists, athletes, business developers, volunteers, and many more. Follow us, support our projects, and join us in the biggest accessibility movement devoted to the blind and visually impaired community from all over the world.
Votes: 0
Voting will start soon
View Plus Technologies
World
ViewPlus Technologies is a manufacturer of braille and tactile graphics embossers and other technologies that make information accessible to the visually impaired. Since 1997 ViewPlus has developed many braille printers, hybrid ink/braille printers, touchpads and scalable Software solutions. The printers span a range from a small portable personal braille printer to large production hybrid printers. Our patented embossing technology enables ViewPlus to be the industry-leading manufacturer of both high-definition tactile graphics embossers and Braille printers.
Votes: 0
Voting will start soon
Vispero
World
Vispero is the world's largest assistive technology provider for the visually impaired. Although officially formed in 2016, our brands Freedom Scientific, Enhanced Vision, Optelec, and The Paciello Group, share a long, rich history as industry leaders dating back to 1975. We develop and deliver innovative solutions that enable blind and low vision individuals to reach their full potential – to gain an education, obtain employment, succeed in professional careers, and live independently throughout their lives.
Votes: 0
Voting will start soon
PRODUCT OF THE YEAR
Alt
Draeger Lienert GmbH & Co. KG
ALT is a software program that allows you to navigate sophisticated software systems rapidly, perform complex tasks quickly and easily, and dramatically increase your efficiency – especially for repeatable and predictable tasks. ALT is the fastest connection between a desire for information and the information itself. The product itself is FULLY accessible, delivering advantages for screen reader users, screen magnification users, and even for sighted people. ALT enables the immediate delivery to the destination of choice, without the need to execute the intermediary steps to get there, and (optionally) performing an action once there. One destination could be a file in a folder. Another destination might be navigation to a Web form that previously required you to sign in.
Votes: 0
Voting will start soon
BlindSquare
MIPsoft
BlindSquare users who are traveling on roads receive information about shops, cafés, public transportation stops etc. via speech. The visual world becomes accessible with information. The user decides how much and what kind of information they would like to receive as a personal choice. A destination can be searched, selected, and then tracked supporting independent travel. BlindSquare will tell the user the distance and travel direction, in relation to the user's orientation, to the destination. The elevators by Kone can be called through the BlindSquare app, by voice or touch. BlindSquare will provide information about the elevator and when it arrives, as well as destination arrival. More Information: https://www.blindsquare.com/
Votes: 0
Voting will start soon
Color Coding for Visual Impaired Learners - A Resource Book for Creating Meaning through Color at Home and School
Scripor Alphabet
The Scripor alphabet completes the Braille by adding to it the representation of colors. The manual for learning is called: Color Coding for Visual Impaired Learners - A Resource Book for Creating Meaning through Color at Home and School. This tactile-graphic manual is used by the blind, but not exclusively. Through it, teachers, parents, the blind and visually impaired are able to communicate chromatically, using colors efficiently. Based on the principles of Universal Design, the tactile alphabet of colors is specially designed for the needs of people with visual disabilities, giving them equal opportunities. The word - "color" - regardless of language, dialect, culture, geographical area - has been reduced to a cell, unique, simple, and universal.
Votes: 0
Voting will start soon
Haptic cube using tactile alphabet of colors
Romania
Color information is available for blind and visually impaired people, thanks to the Scripor alphabet, the tactile representation of colors that fills the gap by using universal design. Solving haptic cubes improves the cognitive side of the brain. It helps blind and visually impaired people in mapping and orientation. Improves memory. Keeps the mind active. It improves the finger's dexterity and agility. Improves patience. It makes the problem solvers, and it's an awesome conversation starter. Scripor Alphabet opens the door to an accessible inclusive world for blind and visually impaired people, providing access to social, professional, and cultural integration, chromatic education, products, and services inaccessible until now.
Votes: 0
Voting will start soon
New functions of YourWay
World
As part of its work on the YourWay system, Altix has developed new products that feature discreet operation (no speaker) and a low price! Thanks to this, anyone can install them and join the system, even a small institution, a company or private users! Yourway NFC - Braille tablet with tactile letters and inscriptions in Braille with a built-in small chip that activates the application. It is enough for the person to approach the NFC at a distance of several centimeters and receive a message. Useful for marking doors or exhibits. Yourway Beacon - This is a small beacon that signals its presence to mobile devices with the YW app installed. It is used for indoor or outdoor navigation. It can provide any text information that your phone reads.
Votes: 0
Voting will start soon
New Horizon - fashion mobile app
Romania
With Scripor alphabet the fashion industry becomes accessible, playing an important role in blind and visually impaired life, as for everyone else. Every human being wants to choose what they wear and how they look. For many people, fashion is an important form of self-expression. Looking at one's best boosts self-confidence. Using AI, we currently develop a fashion mobile app and labeling system for blind and visually impaired people, based on the tactile alphabet. The New Horizons app makes it possible for a blind person to match and organize clothing in different colors.With Scripor alphabet the stores bring a new dimension, providing multiple choices and outfits based on colors. The app will offer also color association suggestions and making it easy to choose clothes independently.
Votes: 0
Voting will start soon
ONYX PRO
World
Advanced tablet-based magnifier with OCR capabilities. Perfect for people who want to combine magnification and speech with their Surface Pro 7 in one device. By simply connecting your Surface Pro 7 to the ONYX PRO, you can magnify text or have it read aloud. The ONYX PRO uses a simple USB cable to connect to a Surface Pro 7 and easily magnifies objects, text, or images. When in OCR mode, you can follow the magnified text in high-contrast colors on the tablet screen. The ONYX PRO centrally located camera can easily go from near magnification to distance viewing by simply turninq the camera. Thanks to its lightweight design and handle, you can pick it up and use it wherever you want.
Votes: 0
Voting will start soon
Ruby10
Vispero
The RUBY 10 is a portable video magnifier with text to speech for those who have low vision. Great for people who want to combine magnification and speech in a 10-inch touch screen device. RUBY 10 has three cameras for distance, reading and the extendable arm for full-page OCR. The RUBY 10 video magnifier has a 10-inch touchscreen and three dedicated cameras. The RUBY10 can magnify letters, magazines, labels, and photos. The swing out arm allows you to view items in your hand and write. When extended, the arm also enables full-page OCR. With a touch of a button, you can scan pages and have them read aloud to you. The third camera is dedicated to seeing objects at a short distance such as signs and menus on a wall.
Votes: 0
Voting will start soon
Self-orientation map using the tactile alphabet of colors
Marghita, Romania
Designed for The House of Culture a self-orientation map using the tactile alphabet of colors for people who are blind or low vision. Based on the principle of Universal Design, the map provides innovative tactile-graphic information by combining both Scripor & Braille alphabet. The haptic route to each destination within the building has a chromatic correspondence, and the people flow experience is fundamentally enhanced. Used in public institutions, self-orientation maps are an all-inclusive source of information for people with vision disabilities, enabling their independence. Furthermore, the maps have a "digital ready" design, by scanning the QR code with a smartphone camera; users will receive additional info of the building's routes without an internet or GPS connection.
Votes: 0
Voting will start soon
Tarot for the blind
Poland
The product Tarot for the Blind and Visually Impaired is the world's first and only deck of Tarot cards for people with limited vision. The deck consists of 22 cards (so-called Great Arcana). Each card is marked with its name and number in Braille and additionally in Latin. Each card has also a large graphical representation. The cards are accompanied by instructions for their use in the form of a book printed in Braille and an audiobook. The product was produced in two language versions: Polish and English. The product offers blind persons possibilities they did not have before. It is, above all, the development of new passions and interests, a sense of equality with the sighted tarotists, and even a work tool in the future.
Votes: 0
Voting will start soon